Research
Project Managing Group: Elucidation of New Hadrons with a Variety of Flavors
Project Managing Group aims to support the execution of the five research projects in this research area, as well as the promotion of close collaborations between them. Project Managing Group also aims to develop close collaborations with other publicly-offered projects in this research area. For example, we will be able to conduct theoretical research to comprehensively understand the results of four-quark states containing c and b quarks obtained from Research Project A01 and those of five-quark states containing s quark obtained from Research Project B01. At the same time, we can conduct experiments to confirm theoretical predictions and to further understand observed exotic multi-quark states. By combining these results with those from Research Project C01, we can elucidate the mechanisms of formation of hadrons from quarks and gluons as well as generation of hadron mass. In addition, promoting such collaborations has a significant advantage since there are various common technological challenges to confront in these research projects.
In particular, we plan to provide various discussion opportunities, such as workshops for related research subjects and meetings of Project Managing Group. We also encourage nuclear physicists to join data analyses of the Belle experiment, and provide lectures on the Belle data analysis software. In detector R&D, we hold workshops for detectors in order to promote technology exchanges between research projects. We also try to publicize achievements and knowledge that we obtain through our research projects, and raise young researchers who will play an important role in the boundary area between elementary particle and nuclear physics. We conduct public relations activities including publication of research achievements through our web site, promotion of educational activities, and holding training seminars for young researchers. In addition, we are organizing international conferences for investigating new phases of hadronic states.
Through these activities, we are aiming to establish a new research area at the boundary between elementary particle and nuclear physics, and to maximize the overall research achievement.
Click to enlarge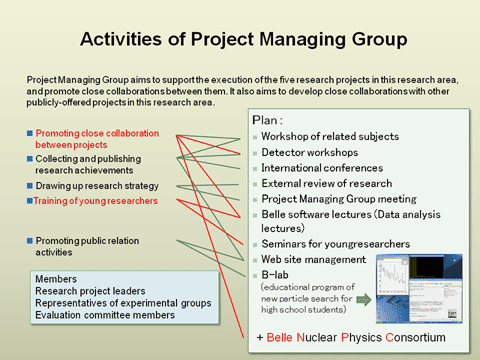 Copyright © Elucidation of New Hadrons with a Variety of Flavors All rights reserved.